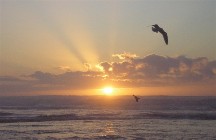 Range (Richard) Bayer, an independent not-for-money researcher since 1987
Email Range (Richard) Bayer, P. O. Box 1467, Newport, Oregon 97365 USA
Last updated on 27 December 2016
Bayer graduated with a Bachelor of Science degree in Wildlife Biology from Washington State University in 1969. After graduating, he served in the U.S. Army (1969-1971) and was honorably discharged.
Starting with his graduate studies at Oregon State University in 1972, Bayer has conducted ecological field research about birds, fish, marine mammals, eelgrass, and dragonflies. In 1976, he graduated with a nonthesis Master of Science degree in Zoology from Oregon State University. He has analyzed much of his field research and published 30+ papers in peer-reviewed scientific journals (see Papers). He has also written articles for other publications (see Papers).
Employment experience after his graduate studies included working at Oregon Aqua-Foods (Newport, Oregon), a private salmon hatchery that is now defunct during 1976-1984, as a seasonal fish culturist. During that time he became familiar with hatchery salmon smolt rearing and releases. As an employee, he also studied bird concentrations in Yaquina Estuary after hatchery releases (see Bayer 1986e in Papers) and bird predation at hatchery ponds.
During 1986-1987, Bayer was also contracted as a part-time consultant to census waterbirds (part of the results are in Bayer and Lowe 1988 in Papers). This was his only experience as a consultant, and, as a result of that experience, he decided to not work again as a consultant. Since then, he has not sought or received grants, contracts, or employment to conduct research.
Later employment included a nonresearch job at Oregon State University during 1990-1994, a seasonal ranger at Yaquina Head Outstanding Natural Area (Lincoln County, Oregon) in the summer of 1995, and a nonresearch job at Oregon State University from the fall of 1995 to the end of 2009, when he retired.
Bayer is also the owner of Gahmken (pronounced gahm' ken) Press, which has published Journal of Oregon Ornithology and Yaquina Studies in Natural History (formerly Studies in Oregon Ornithology). All of Journal of Oregon Ornithology and Studies in Oregon Ornithology have been converted are available for free at ScholarsArchive@OSU (Oregon State University). Very few were sold, so neither of them paid for the cost of their printing. After initial attempts at sales, he donated paper copies to libraries.
Bayer is a life member of the Society for Northwestern Vertebrate Biology and Wilson Ornithological Society. He is also a member of Yaquina Birders & Naturalists (which is based in Lincoln County), Oregon and Oregon Birding Association, and several other natural history and conservation groups. During 1980-2015, Bayer was the volunteer editor of the Sandpiper, a newsletter of Yaquina Birders & Naturalists. He has also written field note columns about bird occurrence in Lincoln County for 22 years as well as other articles and columns about natural history for the Sandpiper.
Bayer has also applied his scientific experience in research and analysis to tsunami preparation as well as issues about a heliport, airboats, shipbreaking, and a proposed LNG facility (see Web Pages).
After retiring at the end of 2009, he began donating whole blood more frequently "to save lives" and consequently developed iron deficiency anemia by October 2010. Since then he has researched iron deficiency and anemia in blood donors and U.S. blood donation policy. He has also written several comment letters about blood donation policy to the U.S. Food and Drug Administration (FDA) that controls federal policy.
---
Also see Papers.
On 30 June 2009, Bayer's former web host went out of business. Some of the pages below and others not listed (e.g., about the impacts of proposals for a heliport, airboat, shipbreaking, and a LNG facility) with that host may not yet be available at Yaquina.info. The process of making them available again takes time because some of the pages need to be revised and updated. Some pages may be lost because there is not enough time to do this. Thank you for your patience!
Natural History
---
The sunset photo with gulls at the top of this page is by Kitty Brigham and is used with her permission, Copyright © 2006
---
.
.
.
.
.
.
.
.
.
.
.
.
.
.
.
.
.
.
.
.
.
.
.
.
.
.
.
.
.
.
.
.
.
.
.
.
.
.
.